What is a Mattress Sleep Trial?
One of the greatest benefits of buying a mattress online is the in-home risk-free sleep trial. This means you can try the mattress for so many nights to decide if you want to keep the mattress or return it for a full refund. If you just had a fear of returning a large size mattress … fear not! The mattress companies arrange for a smooth hassle free return. They organize the pick-up of the mattress and donate it to a local shelter. Once that's complete they provide you 100% refund of your total purchase.
The standard in the mattress industry is 100-night in-home sleep trial. But, a few have ventured to a full year trial. Meaning you can try it for 364 days and still return it, hassle-free, for a full refund.
Here is a complete list of bed in a box mattress brands and their sleep trial durations – update – 2018.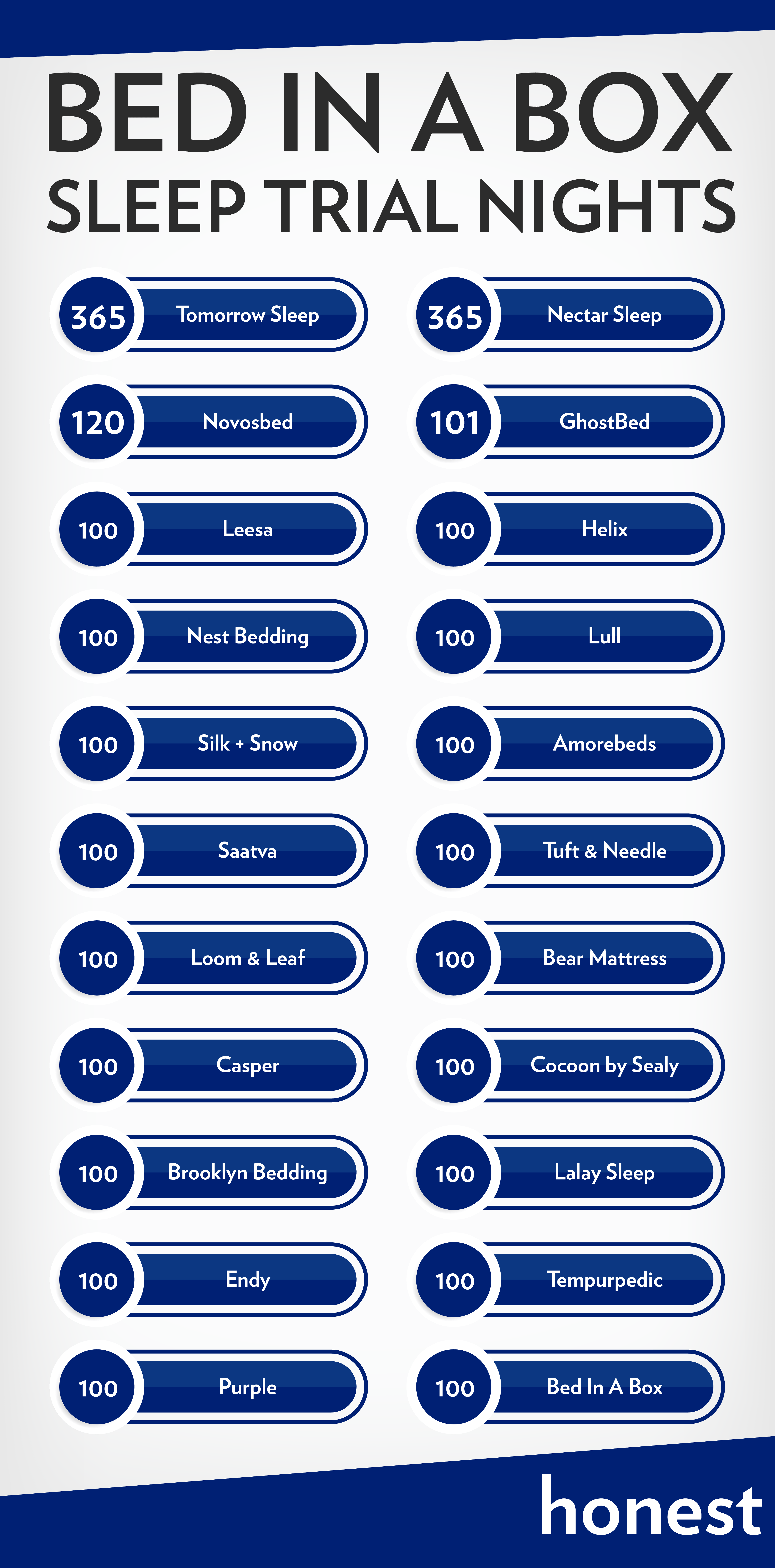 Mattress Sleep Trial Durations;
365 Nights – Tomorrow Sleep
365 Nights – Nectar Sleep
120 Nights – Novosbed
101 Nights – GhostBed
100 Nights – Casper
100 Nights – Leesa
100 Nights – Helix
100 Nights – Nest Bedding
100 Nights – Lull
100 Nights – Silk + Snow
100 Nights – AmoreBeds
100 Nights – Saatva
100 Nights – Tuft & Needle
100 Nights – Loom & Leaf
100 Nights – Bear Mattress
100 Nights – Cocoon by Sealy
100 Nights – Brooklyn Bedding
100 Nights – Lalay Sleep
100 Nights – Endy
100 Nights – Tempurpedic
100 Nights – Purple
100 Nights – Bed In A Box