The Top 5 Best Cooling Mattresses in 2018
Your quest for the best cooling mattress starts here. Are you a hot or a cold sleeper? You will never know how important the answer to this question is until you find out that you bought a mattress that does not even meet your requirements. To avoid this, it is best to take into consideration your sleeping habits even before you scout around for a mattress.
Are all cooling mattresses created equal?
Not all mattresses are equal as each one is made with certain specifications in mind. One of the most important factors to consider when choosing a mattress is the temperature not only in your room but also your body temperature. Mattresses are made of different materials and it is important that all these add up to an ergonomic design.
Do you sleep hot?
If you find yourself sweating in the middle of the night when all the others in the same bed or room are in deep sleep, then it is safe to say you are a hot sleeper. And like most hot sleepers, you probably have the tendency to overheat during night time.
Temperature dramatically affects the quality of your sleep
The temperature level plays a significant role in ensuring that you get quality sleep. A study on thermoregulation or the way sleep is affected by body temperature, found out the relationship between room temperature and quality of sleep. It turns out that a room temperature that is too warm or too cold can disturb one's sleep. [1]
Temperature is not limited to cooling
This means that whether you are a hot or a cold sleeper, your body temperature, can still affect the quality of your sleep. But if you are more of a hot sleeper, you must have spent nights of frustration trying to get a good night's rest. While it is not easy to control your body temperature, it is possible to control the other factors that contribute to making you overheat while sleeping.
---
How to choose the best cooling mattress for you?
Don't despair because getting a good nights sleep is still possible if you know how to choose the best cooling mattress. Investing in a cooling mattress topper or cooling mattress pad can help in keeping you cool the whole night through without waking up in the middle of the night.
Cooling requires cooling technology
Don't be fooled by beds that feel cool the moment you slip in. Unless it is a cool gel mattress, it will start warming up later in the night as your body temperature drops. Most mattresses, just like memory foam, trap the moisture around and heat you up.
Some cooling accessories can help
You and the other hot sleepers out there can still have quality sleep if you only invest in the right combination of the best-rated cooling mattress. You can also throw in some cool bedding accessories like a cool gel mattress and a cool pillow to enhance your sleeping experience.
Top rated cooling mattresses – updated – April 2018
And now that you've determined your sleeping requirements, it is time to check out some of the cooling mattress reviews so you know which mattresses to choose from. Here are some of the best-rated cooling mattress you can choose from:
---
#5 – Leesa Mattress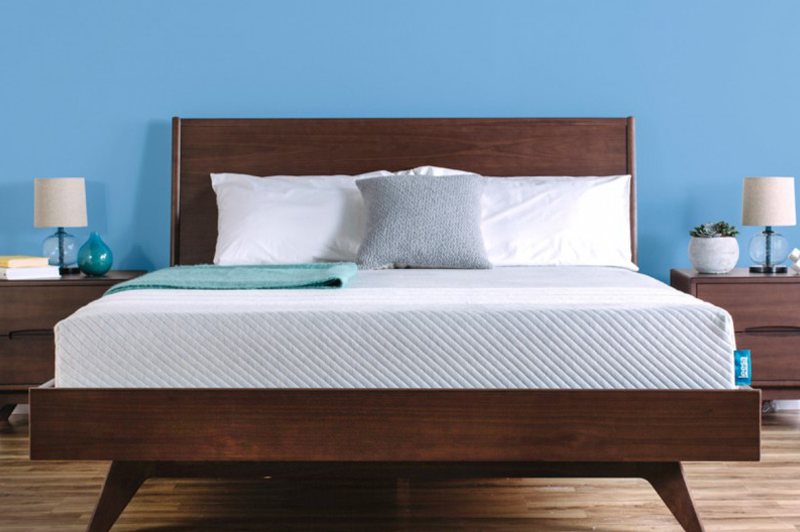 Leesa pricing
Cool, refreshing airflow
Another good reason for choosing the Leesa Mattress aside from its comfort is its corporate social responsibility. The manufacturer has a commitment to donate one for every 10 mattresses it is able to sell and plant a tree for every mattress ordered.
Sleep cool without sacrificing support
The overall design of the Leesa Mattress is, however, enough to convince you to get this product. The mattress is guaranteed to make you sleep better by providing you both comfort and support. This mattress makes use of a two-inch Avena foam at the top layer providing enough bounce, a memory foam that relieves pressure, and a six-inch dense foam as core support.
Clean CertiPUR-US foams
Leesa Mattress has an iconic seamless four-stripe cover that is certified by CertiPUR-US to be free from ozone depleters, flame retardants, formaldehyde, heavy metals like lead and mercury and phthalates. It is also environment-friendly with a low volatile organic compound emission. But what matters most for consumers is the 10-year limited warranty of the mattress.
---
#4 – Zenhaven by Saatva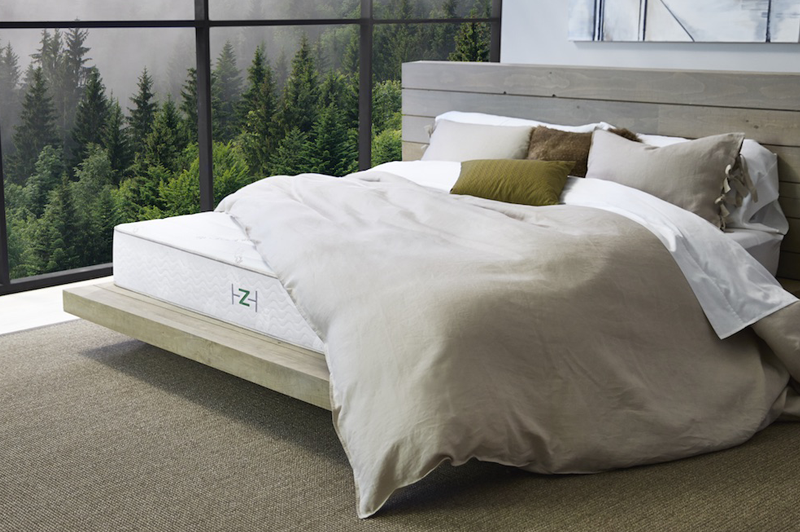 Zenhaven pricing
Luxury meets cooling
The Zenhaven mattress by Saatva is a luxurious mattress but highly affordable compared to the other top-of-the-line mattresses. Saatva is known for its luxurious but competitively-priced mattresses. It contains 100% Talalay latex and handcrafted in the United States.
Latex stays cool naturally
The choice of latex was very important for Saatva since it provides breathability to the mattress. The choice was between the Dunlop late which was denser or the Talalay latex which was more resilient. They chose Talalay which was natural and free from toxic chemicals.
Cooling that contours
This natural latex contours to your body and is responsible for that incomparable comfort and support provided by the mattress. If you're sensitive to dust and mites then you will be glad to know that Zenhaven is made of a botanical antimicrobial fabric treatment known as Guardian that helps it resist microbes and mold. It also contains 100% organic wool from New Zealand which has been wrapped in organic cotton.
Eco-friendly, green and clean
Manufacturers often claim that their mattresses are green. And yet, most of these are false claims since they are still using synthetic latex. With Saatva's Zenhaven, you are assured that you are indeed getting a luxuriously green product.
Sleep on this mattress, not in it
This mattress does not give you that sinking feeling. On the contrary, it is easy to get the level of firmness that you desire from your mattress as Zenhavens flippable. If you want a mattress that will last for a long time, then this is a good choice.
---
#3 – Loom and Leaf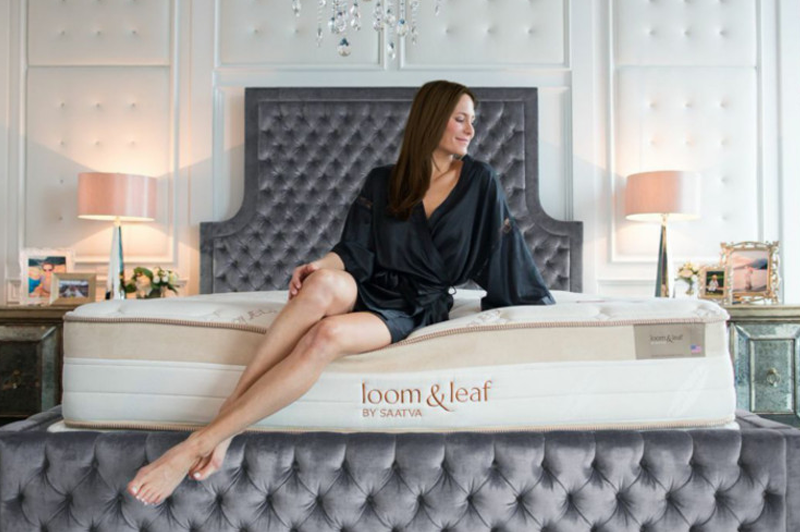 Loom & Leaf pricing
Loom and Leaf are proud of its contribution to the United States labor market by providing work through its 19 factories and 145 fulfillment centers, all located in the US. But more than that, it takes pride in the skills possessed by its workers and their craftsmanship in creating mattresses that continue to help people enjoy quality sleep.
This mattress promises to make your sleep comfortable with its organic and breathable cotton cover. The cooling gel that makes up the Spinal Zone layer in this mattress is guaranteed to keep you cool. Off-gassing is never an issue with its top memory foam so expect a good sleep without any distraction at all.
The firmness of the Loom and Leaf mattress is just right whether you sleep on your back, side or stomach. There is always an assurance that the mattress you tried in the stores will also have the same level of comfort when you use it at home. If not, then you can always rely on the 120-day home trial option.
Get this cooling memory foam mattress and be proud that you have somehow contributed to the environment. After all, the flagship factory of the manufacturer makes use of solar energy to produce these mattresses.  It only deals with foam suppliers that are also environment-conscious since they strive to reduce the emission of greenhouse gases during production. It has committed to help the environment not only using green materials but also by reducing its carbon footprint in producing the mattresses. The company has declared that their mattresses do not contain ozone depleters, no phthalates, no formaldehyde and flame retardant.
---
#2 – Brooklyn Aurora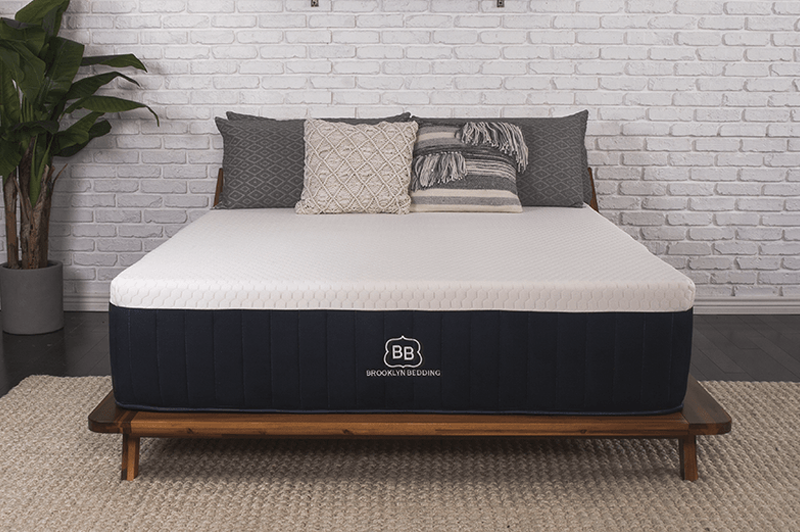 Brooklyn Aurora pricing
Looking for a luxurious mattress that will not break the bank? The Brooklyn Aurora is one fine mattress that is also affordable, It provides maximum cooling thanks to the Advanced TitanCool which is a technology geared towards optimal cooling. Brooklyn Aurora is a fitting mattress for hot sleepers as the TitanCool technology draws the heat away from your body and enhances its cooling effect.
It also boasts of a copper infusion that promises to provide not only comfort but also an antibacterial environment while sleeping. The mattress is also filled with a two-inch second comfort layer known as Titanflex to help the mattress adjust when your body moves. The one-inch Visco-Elastic memory foam is a welcome feature for heavy sleepers as it provides deep compression.
For maximum comfort and reduced motion, the mattress contains 1,283 pocketed coils. These coils can improve your sleep by reducing sleep disturbance. To provide the mattress with a durable core, it also used a one-inch base support foam.
No mattress is perfect for all people but this mattress can be the perfect choice for you as it offers three levels of comfort depending on your preferences. If you are a side sleeper then the soft mattress is ideal since it provides support to your body's contours.  The medium firmness is an option for those who do not only sleep on the side but also on their back and stomach. But if you don't want that sinking feeling then choose the firm mattress for more lumbar support.
It is important to consider the materials used in the construction of the mattress to match it with your sleeping preferences. In the same manner, you should also take note of your sleeping habits like your sleeping position. If you are a hot sleeper then choose a mattress that provides maximum cooling for long hours. The best option would be mattresses that are made of breathable materials such as spring coils,
As a general rule, the coil is more breathable than most memory foam and other materials like latex, gel, advanced poly foams and memory foams. Familiarizing yourself with the materials used in manufacturing mattresses will help you make the best cooling mattress at any time.
---
#1 – GhostBed Luxe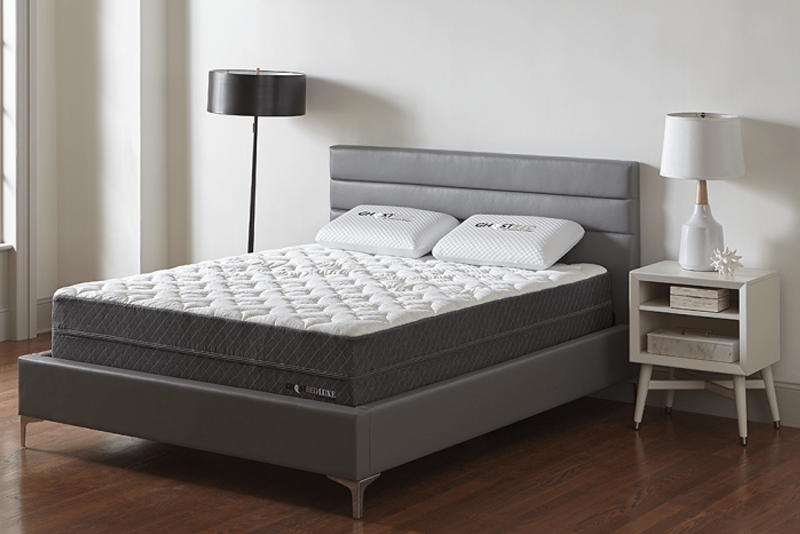 GhostBed Luxe pricing
Seven layers of cooling
If you dread waking up at night and interrupting a good night's rest just because you have an inappropriate mattress, you can check out the GhostBed Luxe mattress [2]. It promises to keep you cool with seven layers of cooling technology consisting of the Ghost ice fabric Layer, a half inch of cooling fiber, an inch of Gel Memory Foam, Ghost Ice Layer, Ge Memory Foam, Ghost Bounce Layer and the Support Core.
A cover that feels cool like ice
Surface cooling is done by the Ghost Ice Fabric through a Japan-made proprietary formulation woven into the yarn public before it looms in the United States. This stage provides instant cooling by absorbing and storing heat which the body has released. Core cooling is provided in Stage 2 through the Ghost Ice layer found on the Gel Memory Foam surface. Ghost Ice, which is made of Phase Change Material, keeps the mattress cool by absorbing heat.
Pressure points, eliminated
The best thing about this mattress is its Gel Memory Foam layer which does not only keep you cool but also minimizes movement from the other side of the bed and relieves the pressure points. The Gel Memory Foam contours to the body so you get that feeling of being cradled providing relief to your spine, neck shoulders and hips.The foam layers are certified by CertiPUR-US.
Reference:
[1]  NCBI: Skin deep: enhanced sleep depth by cutaneous temperature manipulation.: Raymann RJ1, Swaab DF, Van Someren EJ.
Disclaimer;
[2]  Please note, some of the owners of Honest Review may also work for completely separate company(s) that have, in the past, or possibly in the present, consulted in some form with this company or an owner(s) of this company.  This external relationship has no bearing on Honest Review, this website, this rating, or our editorial content.  Our proprietary irlRank governs our review process and top mattress ratings.